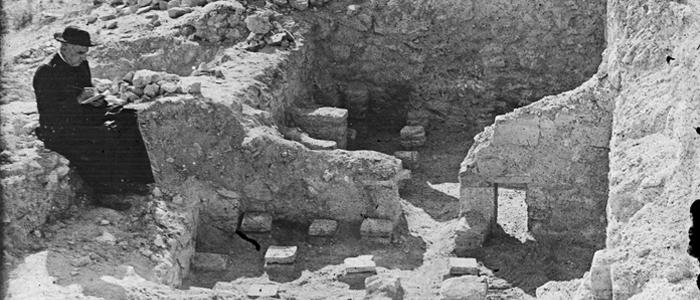 The beneficiary of the 1st Linares Ortiz Training Grant in Conservation and Restoration of Museum Collections joined the Vilamuseu on 1 June. Under the orders of the Curator in charge of Collections and the Vilamuseu's restorer, one of the main functions of the grant holder will be the management of the collection of more than 100,000 photographs from 1920 to 2003 that make up the Linares Ortiz Collection. The Linares family deposited it at the Vilamuseu in 2021 for joint management by the Vilamuseu and the Municipal Archive. It is an extraordinary collection for its quantity and quality, which brings together unpublished images of the Marina Baixa region and its people for more than six generations. Its historical value is incalculable.

The first surprise was not long in coming: on opening the first box to start planning the work, a small box appeared containing the glass negatives of the photographs taken by Antonio Linares of the excavations carried out by Father Belda in the monumental Roman villa of Torre la Cruz. They show the mosaics and mural carvings now on display in the Marq (Archaeological Museum of Alicante), at the time of their discovery, and the director of the Provincial Museum himself, Presbyter José Belda. The years were 1946 and 1947.

This is an unpublished graphic document of great interest for the history of Valencian archaeology, and at the same time a document that will help us to learn more about this important site, one of the most spectacular Roman villas known in Valencia. In fact, its complex decoration of plaster carvings with geometric motifs and human and animal figures, which appears in some of the photographs, is unique in the Iberian Peninsula and has been the subject of heated scientific debate as to whether it is late Roman or possibly belongs to an Islamic palace.

Linares' photographs are much more than a graphic document: they are works of art in themselves, snapshots calculated to keep a perfect composition, paying attention to every detail of the light, the framing or the elements that appear in them. Proof of this is the photograph of Father Belda in his proverbial cassock, seated on an earthen witness, concentrating as he takes notes next to the hypocaust of the town's thermal baths; behind him two workers digging, and in the background the olive grove of the orchard of Linares.