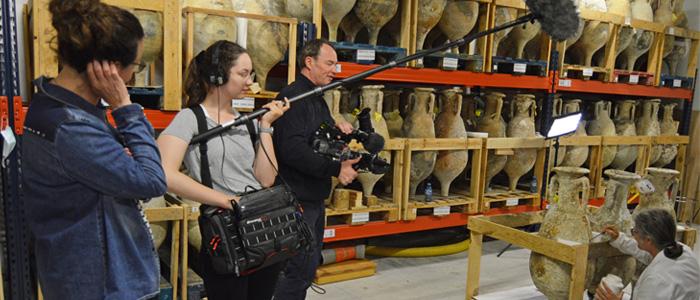 The German TV channel Westdeutscher Rundfunk came to La Vila Joiosa to film Vilamuseu, the Bou Ferrer wreck and the Club Náutico for Wunderschön (www.wunderschoen.wdr.de), one of the most popular travel and tourism programmes on German TV, which is broadcast on Sunday afternoons. The episode is entitled "From Alicante to Valencia", and one of the highlights will be the Bou Ferrer wreck in La Vila Joiosa.

On 4 and 5 May, the film crew was in La Vila Joiosa, where they filmed with the programme's presenter, Tamina Kallert, and in Vilamuseu, where they filmed the exhibition, the warehouses and the restoration laboratories of the Bou Ferrer shipwreck.

The filming paid special attention to the work processes of the museum team, such as the assembly and stowage of the amphorae boxes, made from recycled pallets, where 700 amphorae from the wreck are kept; the restoration of the lead ingots, the largest found in the Roman Empire, with the seals of the Emperor Nero; or the wet laboratory of the second desalination, where the amphorae complete their cleaning cycle before going into storage. All of this can be seen on the guided tours offered by Vilamuseu.

The programme's scriptwriter was particularly interested in some of the most extraordinary pieces from the site, in addition to the amphorae and ingots, such as the iron key from the ship's pantry or the wooden washers through which the ropes ran to raise the ship's sails, which can be seen in the intelligent exhibition on the wreck at Vilamuseu.

The team also went to the Yacht Club, where they embarked with the discoverers of the wreck, Antoine Ferrer and José Bou, to film maritime images. And the General Foundation of the University of Alicante will provide the channel with high quality underwater images.

With this, one of the most important tourist assets of Vilamuseu and La Vila Joiosa, the Bou Ferrer wreck, the first wreck to be declared of cultural interest in the Valencian Community, and one of the first seven properties on the UNESCO World Register of Best Practices in Underwater Cultural Heritage, created in 2017, has an unbeatable loudspeaker in the German tourism market.

The programme will be broadcast in several months' time, once the editing process has been completed.