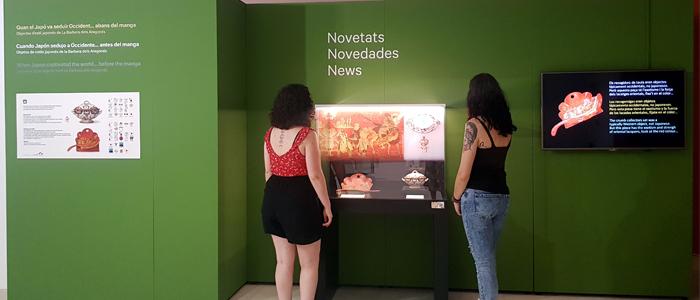 Vilamuseu frequently renews the exhibition pieces. Only a small part of the collection is shown in the exhibitions because the purpose is find more quality than quantity for the visitor, with the pieces with a good explain and always highlighting their curious and interesting side.

From today we have a new space dedicated to "News", which converts a part of the project of the permanent exhibition into reality. It will not only be a place to exhibit pieces that have recently arrived at the museum, even before they are restored, but also for those others that we have recently researched and of which we can show a new approach or unpublished details.

We open this space with two pieces from the La Barbera dels Aragonés Manor House. They are exhibited together under the title "When Japan seduced the World... before the manga. Japanese style objects from La Barbera dels Aragonés". They are an individual soup tureen and a tray and brush for collecting crumbs that tell us about a specific period in the history of Japan: the moment when the world was fascinated by the art and culture of a country that had its borders closed for 250 years.
The novelty of these pieces is that we deepen their research to put them to Vilamuseu's social networks during the confinement by the Covid-19 pandemic, and discover very interesting aspects about them, which we now share with the public.

We have also worked to make these two curious pieces available to everyone. Therefore we offer an interpretative video in Spanish, Valencian and English, texts in easy language and pictograms of augmentative communication. You can also access through a QR the audio description of both pieces and a video in Spanish sign language.

This exhibition can be seen on the first floor during the months of July and August. In September other pieces will replace it and will tell us about other news of the museum.