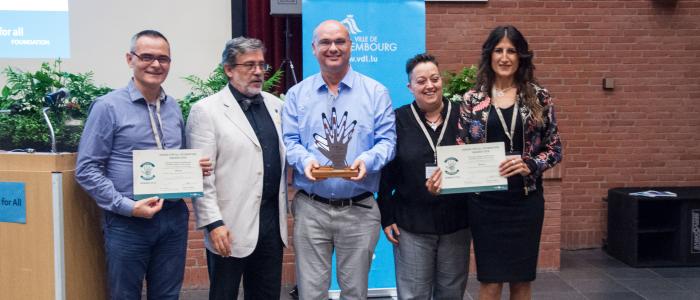 Vilamuseu, the Network of municipal museums and monuments of Vila Joiosa, collected on 21 September the prestigious International Best Practices Award of the Design for All Foundation. This award was presented at the Bonnevoie Cultural Center in Luxembourg, during the closing of the «Design for All & EureWelcome» Congress.
The mayor of the town, Andreu Verdú; the Councilor for Tourism, Marta Sellés; the director of Vilamuseu, Antonio Espinosa and the Chief of the Educational department of Vilamuseu, Carmina Bonmatí, were in charge of collecting this important prize that highlights the good practices and the inclusive design of the municipal museum and the monuments of Villajoyosa.
Vilamuseu was awarded along with four other candidates as Best International Practices. The museum competed not with other museums or cultural spaces, but with a wide variety of companies and institutions from the most varied sectors around the world. In the jury there were some of the world's leading specialists in Design for All, including Keiji Kawahara, Executive Director of the IAUD (International Association for Universal Design); Francesc Aragall, president of the Design for All Foundation; Rama Gheerawo, Director of the Helen Hamlyn Center for Design of the Royal College of Art, United Kingdom; or Valerie Fletcher, Executive Director of the Institute for Human Centered Design, USA, among others, which brings to this award an extraordinary international prestige.
Design for All is the intervention on environments, products and services with the aim that all people, including future generations, regardless of age, gender, abilities or cultural background, can enjoy participating in the construction of our society under equal conditions. With this recognition, the effort of the Vila Joiosa City Council to provide the city with a network of museums and monuments designed in an accessible and inclusive way for all is highlighted.
"It was very difficult to obtain this prize, because we competed with large-scale projects from around the world. We are very proud that they have recognized the great work to make our network of museums and monuments accessible to everyone and fully integrated into our environment. The Vila not only has a great cultural heritage but also brings it closer to everyone, "said Andreu Verdú, mayor of Vila Joiosa.