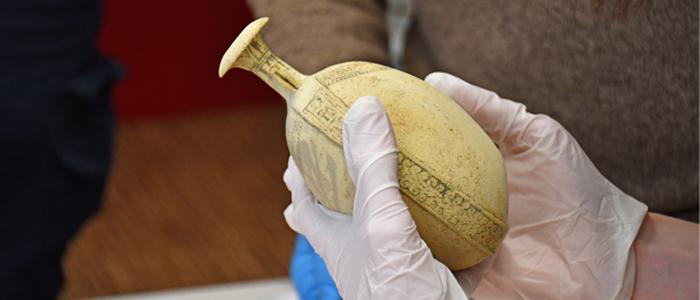 The Egyptian New Year's canteen returns to Vilamuseu after its six-month loan to the exhibition "Hijas del Nilo, mujer y poder en el Antiguo Egipto" in Madrid.

The exhibition, organised by the EULEN ART Group, a company specialising in services for Art and Heritage, has received more than 100,000 visits from its opening on 9 June 2022 to its closing on 31 December (https://hijasdelnilo.com). It has taken place in the Casa de las Alhajas, in the central Plaza de San Martín in Madrid, where the first convent in the city once stood. Today it is the headquarters of the Monte Madrid Foundation and an important cultural and exhibition centre.

This is one of Vilamuseu's most outstanding pieces, the only one of its kind found in an archaeological excavation in Spain; in this case, in a Phoenician tomb in the cemetery of Casetes in La Vila Joiosa. It was made around 600 BC in the Egyptian capital, Sais, during the 26th Dynasty. It was used to collect water on the Egyptian New Year's Day in July. That day was the day of the heliacal ortho of the star Sopdet (Sirius), i.e. its first appearance on the horizon after its period of invisibility. This appearance coincided with the annual rise of the Nile River. The water of the river on that day was thought to be miraculous and curative, and was bottled in thousands of canteens like this one for sale.

Its two inscriptions in hieroglyphic script pray for health to the warrior goddess Neit, protector of the 26th Dynasty, and for a good year to the god of time and magic, Dyehuty. For this reason it is of exceptional value and has already travelled to different exhibitions in Barcelona, Alicante and, on two occasions, Madrid.

More than 40 museums and private collections in Europe and Egypt have participated in the exhibition "Hijas del Nilo", such as the National Archaeological Museum of Madrid, the British Museum in London or the Louvre in Paris. With a spectacular montage, which included a life-size replica of the tomb of Sennedjem, excavated in 1886, it traced the role of women in Pharaonic Egypt over more than 3,000 years of history through almost 300 pieces.

The piece was returned this morning by specialised personnel from the company Eulen to Vilamuseu, where the Restoration Department and the museum management examined it to check that it was in the same condition in which it left for Madrid six months ago. In the next few days it will return to its display case in the Tresors de la Vila Joiosa exhibition in Vilamuseu, where it will be exhibited for the first time in 2023, in order to highlight the importance of pieces like this one.